Heating Services in Clinton, NJ
We take pride in offering top-notch heating services within our service area. With our team of experienced technicians, we are dedicated to providing optimal comfort and warmth to your residential or commercial spaces. From system installations and repairs to regular maintenance, we ensure that your systems operate efficiently and effectively, keeping you cozy during the chilly winter months.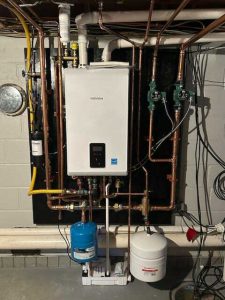 Trust K.M. Gomes & Sons HVAC with Your Heating Needs
With over 40 years of experience and a proven track record in the HVAC industry, we have earned a reputation for excellence and reliability. Our team of skilled technicians is committed to providing top-notch services, from installations and repairs to regular maintenance.
We understand the importance of a cozy and comfortable home during the colder months, and that's why we go the extra mile to ensure that your systems operate efficiently and effectively. With our personalized approach, we take the time to understand your unique requirements and recommend tailored solutions that fit your budget and preferences.
Warmth and Comfort at Your Fingertips
Don't wait for your heating system to leave you in the cold; take action today to restore warmth to your living and working spaces. Schedule your repair or installation appointment in Clinton, Hunterdon County, Warren County, Long Valley, Chester, Bridgwater, and Branchburg, with K.M. Gomes & Sons HVAC, and enjoy the benefits of:
Professional HVAC Technicians: Our experienced technicians are dedicated to delivering top-notch service and have the expertise to tackle any issue with precision.
Transparent Pricing: We offer free estimates for all our services, so you can make informed decisions without hidden costs or surprises.
Personalized Solutions: Every property is unique, and we understand your specific requirements. Our team will work closely with you to tailor our services to your needs.
Give Us a Call Today to Enhance Your Home Comfort
Put an end to the winter chill and embrace a cozy, warm environment with our heating systems. Contact us today.