Maintenance Services for Lasting Heating and Air Conditioning Systems
At K.M. Gomes & Sons HVAC HVAC Professionals, we believe that regular maintenance is the key to ensuring optimal performance, energy efficiency, and longevity of your HVAC systems. Our comprehensive maintenance services are designed to keep your heating, and air conditioning units in peak condition, providing you with a comfortable and reliable indoor environment throughout the year.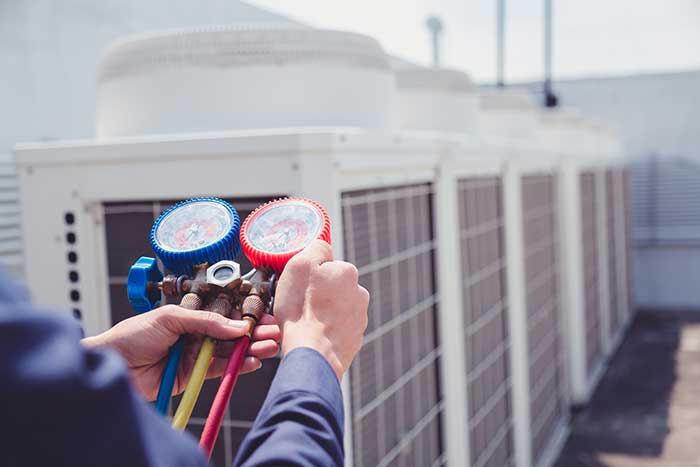 The Importance of HVAC Maintenance
Your HVAC system is a complex and valuable investment that requires proper care and attention. Regular maintenance offers a multitude of benefits, including:
Enhanced System Performance: Scheduled maintenance helps your HVAC units operate at their best, delivering efficient heating and cooling performance.
Improved Energy Efficiency: A well-maintained system consumes less energy, leading to potential savings on your utility bills.
Extended Lifespan: By catching and addressing minor issues early on, maintenance can help prevent major breakdowns, extending the lifespan of your HVAC equipment.
Better Indoor Air Quality: Regular cleaning ensures cleaner, healthier air circulating in your living and working spaces.
Our Customized Maintenance Plans
At K.M. Gomes & Sons HVAC, we understand that each heating and air conditioning system is unique, as are the requirements of our valued customers.
Thorough Inspections: Our experienced technicians will conduct comprehensive inspections of your heating or cooling system to identify any potential issues.
System Tune-ups: Our expert tune-ups fine-tune your HVAC equipment, maximizing its performance and energy efficiency.
Priority Service: As a part of our maintenance plan, you'll receive priority scheduling for your service appointments, minimizing downtime and inconvenience.
Seasonal Check-ups: We'll be there before the changing seasons to prepare your HVAC system for the upcoming weather demands.
Contact Us Today to Ensure the Longevity of Your HVAC System
Get started with our heating and air conditioning maintenance services. We are here to optimize the performance and longevity of your HVAC investment, providing you with dependable comfort and peace of mind.